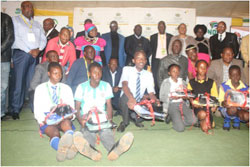 Department of Education MEC Honourable Ishmael Kgetjepe has handed over the school uniforms to 10 schools in Tzaneen to assist the learners striving for excellence in the 2017 academic year.
The handing over ceremony was conducted at the Ramotshinyadi Sports Ground in the Mopani District, Tzaneen Local Municipality.
Four primary schools which benefited 100 packs each from this tremendous initiative are Mironga, Xihoko, Sethong and Pholoyahlaba Primary schools while the six secondary schools includes Ramotshinyadi, Khesetwane, Mudingazi, Sevengwana, Makobo and Mahlatlego-Machaba Secondary schools respectively.
Kgetjepe said that the department's initiative must serve as a motivation for Mopani community leaders and residents to prioritise education above all things. He has also urged them not to vandalise state properties in an attempt to gain attentions from the government while protesting.
MEC of Co-Operative Governance Human Settlements and Traditional Affairs Mme Makoma Makhurupetje, Deputy Minister at the Presidency Bhuti Manamela and the Mopani local leaderships were also in attendance to witness the hand over.
In response, Manamela has encouraged the youth from Mopani area to stay away from harmful substances such as nyaope and alcohol while Mme Makhurupetje has urged local businesses to support the needy learners in pursuing education.