By: Emmaculate Cindi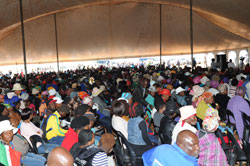 Limpopo Provincial Executive Council (EXCO), under the leadership of Premier Chupu Mathabatha, has vowed to interact with communities across the province as part of public participation and bridging the gap between government and communities to speed up service delivery concerns.
As part of their monthly programme, the Provincial Executive has met with the community of Zaaiplaas in Sekhukhune district municipality; to share government policies and programmes and also to listen to concerns raised by the community. Hundreds of community members had gathered at the local sports ground to praise government of the developments done in the area and to raise concerns of the outstanding service delivery projects.
Acting MEC for Social Development Dr Phophi Ramathuba has used the gathering as a platform to inform Zaaiplaas community that, the department of Social Development is working on the proposal of introducing a new method that will compel mothers and guardians to bring along road to health chart of children to the social grant pay point as a measure to eliminate high malnutrition rate in the country and only parents and guardians staying with children who are recipients of grants will be in the position to receive the money as opposed to mothers that receive the grants and do not even attempt to buy basic necessity because they do not stay with their own children.
Most mothers have confirmed that their children are staying with their grandparents and they use the money to enhance their beauty, buy airtime and gamble with what is intended to come as a relieve to those families that are unemployed and cannot afford to buy basic necessity for their children, and ensure that they get the required nutrients but on the pay day they are the first to queue and receive the money while grandparents will have to struggle to care for the children left in their care.
Even though government had worked positively towards improving the lives of the community, lack of water supply which has affected the wealth of community mainly livestock and agricultural activities remains at the top of the main concerns that needs government immediate attention. However, the municipally is on the process of addressing the community challenge by installing 100 permanent pumps. Water committees will be established in every ward and will be working together with ward councillors to ensure speedy response to water crises in Zaaiplaas.
Speaking on behalf of premier Mathabatha, MEC for Roads, Public Works and Infrastructure Jerry Ndou said the departments will go back and implement what was discussed during engagement with Zaaiplaas community to improve service delivery in the province.