By: Emmaculate Cindi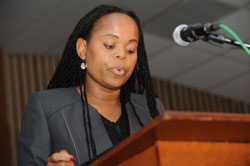 The Public Service commission (PSC) has recently hosted a round table discussion at Bolivia lodge in Polokwane under the theme "Building Capable and Development State". According to the Limpopo Developmental Plan (LDP) medium- term strategic framework five year plan, the action plan for the National Development Plan (NDP) and the new growth path for the five year period which has already started in 2015 and will end in 2019 implementation plan, is improving service delivery mainly access to quality of service and local capacity.
When she took to the podium to address the delegates on behalf of the Limpopo Premier, MEC for Health Dr Phophi Ramathuba did not mince any words as she spoke of what makes key elements of building capable and development state. She strongly spoke against public servants that are hampering with the implementation of building the capable state by criticizing those that come to work late and those that are occupying senior positions without relevant experience and qualifications.
She warned that hospitals are threatened to run without food and medications, and schools to operate without textbooks because of public servants that are incompetent. The MEC said that to build the capable and developmental state, public servant attitude needs to change first before anything can happen because with the right attitude, skills, qualifications and good governance that will be sustainable to the economy it will be easy to implement policies.
During her address, the MEC highlighted a scary possibility that public servants are faced with possibility of not getting their salaries because of failure of good governance in the public sector.
Dr Ramathuba has pleaded with heads of departments in the province to implement the outlined recommendations by PSC which include the appointment of senior managers who are not qualified to occupy senior management positions.
Currently the Limpopo Office of the Premier and Department of Health are the two departments in the province that are working on the recommendation and restructuring of senior management positions which has many directors and chief directors who are not qualified and unnecessary.
"Recovery plan is to appoint people that are qualified both academically and experienced in their field of work and to reduce the number of senior managers that are unnecessary". Said the MEC
The MEC has unapologetically stated that Limpopo is one of the province that have qualified personnel serving other provinces because her own province does not appoint their own.
The emphases on the recovery plan will help to deal with critical decisions in government that have been taken by senior executive who are clueless about their mandate because they are not fit to be holding those position by not having the in-depth knowledge and experience, and as a results affect service delivery in the province.