By: Mosa cholo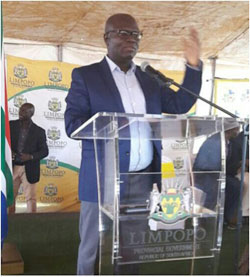 Various Departments in the Limpopo Province were present at the EXCO-Imbizo held at the Alldays Sports Ground in the Blouberg municipality.
The purpose of the event was to give community members a platform to raise issues concerning service delivery in each and every department. Pointing out issues concerning Education, one of the residents mentioned that there are schools in the Senwabarwana Circuit that have been operating without water and toilets since April 2017. He pointed out that there are schools without desks, some school buildings aren't in good conditions and some learners are not benefiting from school feeding scheme programmes because they don't have birth certificates and identity documents. He also mentioned that learners aren't safe at schools due to lack of security personnel. He lastly pleaded with the MEC for slow learners to have special schools built for them.
Answering all the questions, Mr Kgetjepe said that the department is working with the Blouberg municipality to ensure that schools have access to clean water and toilets. "We have visited schools across the province and we are aware of what needs to be done. We have renovated 35 schools so far" he said. He mentioned the fact that the department is working closely with the Department of Home Affairs to ensure that all the qualifying learners have birth certificates and identity documents. "Principals are responsible for security implementations at schools, as each and every school is given money which includes money for security implementation. Principals should stop building verandas for their cars and hire security guards instead." He warned. Prior to closing, he mentioned that there are two special schools in the Blouberg municipality that offer hand courses and learners struggling in main-stream academy are welcome.